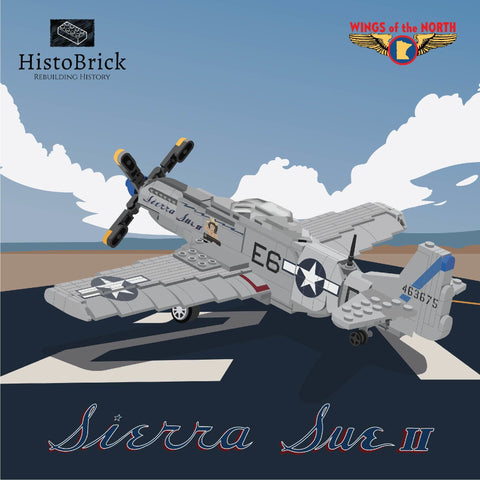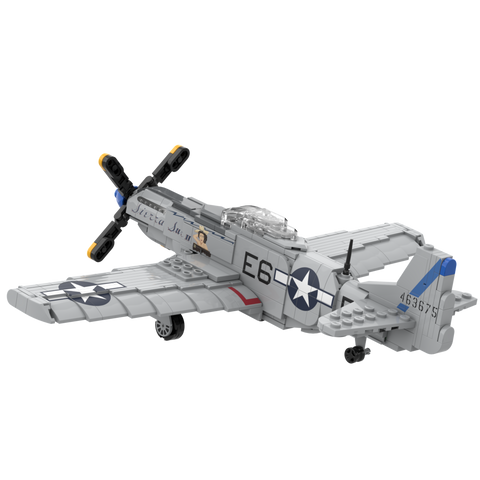 Sierra Sue II - Wings of the North Museum
Pickup currently unavailable
Now shipping! Orders are fulfilled every Friday.
Model History:
The P-51 Mustang is arguably the best fighter of World War II. The P-51D, with its Packard built Rolls Royce Merlin engine is certainly the most iconic fighter of World War II. It was armed with six fifty caliber machine guns and could carry bombs, rockets, or fuel tanks under the wings.
History of Sierra Sue II:

Sierra Sue II is a P-51D-20-NA Mustang fighter manufactured at North American's Inglewood plant in southern California as ship number 516, construction number 122-31401. Learn more about this aircraft on the Wings of the North website.
Kit Details:
- Portion of the proceeds donated to the Wings Of The North Museum

- 1:40 scale (minifigure scale)
- 381 LEGO® elements. 90 UV printed graphics
- *Printed elements may vary from those shown in photos*
- Spiral-bound gloss instruction booklet
- Histobrick premium bamboo box 
- Built dimensions: 9.5" x 11" x 4"
HistoBrick kits are made of new-condition LEGO® bricks that are acquired from 3rd party sources.  
 HistoBrick kits are not a LEGO® product. LEGO and the LEGO minifigure are trademarks of the LEGO Group, which does not sponsor, authorize or endorse these products or site. The LEGO Group is not liable for any loss, injury or damage arising from the use or misuse of this product.