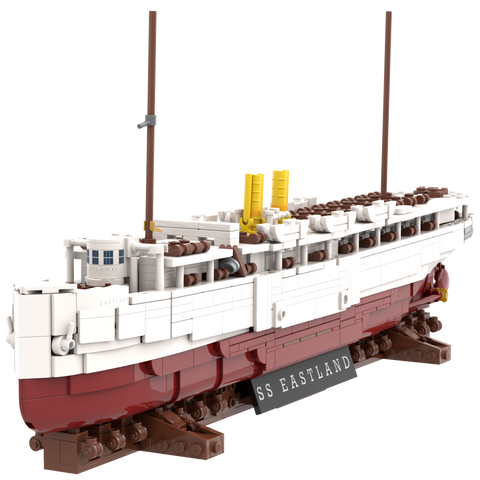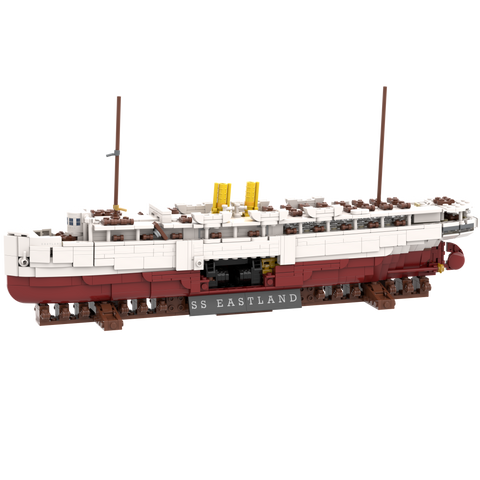 SS Eastland
Pickup currently unavailable
Now shipping! Orders are fulfilled every Friday.
LIMITED TO 20 KITS PRODUCED. ONCE SOLD OUT, NO RESTOCKS. 
Kit Details:
1391 LEGO® elements featuring UV printed graphics for exceptional detail.
A seamless building experience with the spiral-bound premium instruction booklet.
The model comes packaged in a Histobrick bamboo box with art sleeve. 
Model Details:
1:200 scale replica, matching the official LEGO® RMS Titanic scale.
built dimensions of 16" x 2.25" x 7", making it a captivating display piece.
Display your model proudly on the brick-built stand.
Interior details, including boilers and engines, bring authenticity to your creation.
Admire the UV printed pilothouse, nameplates, boilers, and stand plate, enhancing visual appeal without the need for stickers.
History of the SS Eastland: A Tragic Legacy
The SS Eastland, a passenger steamship, holds a significant place in early 20th-century maritime history in the United States. Built in 1902 and operated by the St. Joseph-Chicago Steamship Company, it met a tragic fate on July 24, 1915, when it capsized while docked in Chicago. The disaster, caused by design flaws and overloading, led to the loss of 844 lives, making it one of America's deadliest maritime incidents.
The SS Eastland disaster sparked crucial reforms in maritime safety, paving the way for improved regulations, vessel designs, and emergency procedures. Today, it stands as a somber reminder of the importance of safety measures in the shipping industry and the profound impact it had on passenger ship travel history in the United States.
Histobrick® kits are not a LEGO® product. LEGO® and the LEGO® minifigure are trademarks of the LEGO Group, which does not sponsor, authorize or endorse these products or this site.