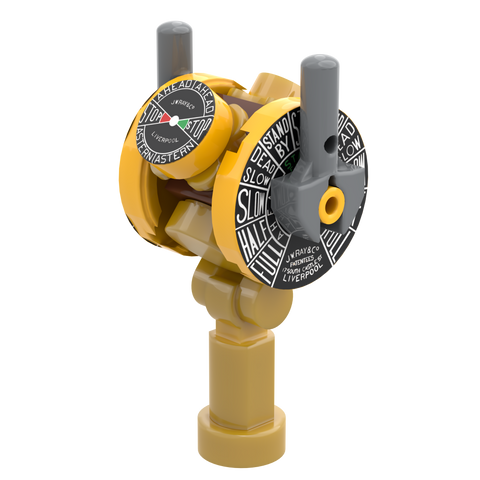 Engine Order Telegraph
Pickup currently unavailable
Now shipping! Orders are fulfilled every Friday.
Kit Details:
12 LEGO® elements, featuring UV printed graphics for durability.
Comes with an instruction card for ease of building.
Model Features:
Scale: 1:35.
Posable levers.
UV printed graphics, ensuring quality visuals without the hassle of stickers.
The built dimensions of 1" x 1.5" make it a perfect desk or shelf ornament.
History of the Engine Order Telegraph: From Steam Power to Safer Seas
The Engine Order Telegraph (EOT) is a fascinating communication device used on ships to transmit orders from the bridge to the engine room. Its history dates back to the mid-19th century when steam-powered vessels were on the rise. Originally, these telegraphs were simple mechanical devices operated manually, but later advancements in electrical and telegraph technologies revolutionized ship communication, making operations safer and more efficient. Today, the EOT remains a vital tool in maritime operations, ensuring smooth coordination between the bridge and the engine room for the safe navigation of ships on the open seas.
Histobrick® kits are not a LEGO® product. LEGO® and the LEGO® minifigure are trademarks of the LEGO Group, which does not sponsor, authorize or endorse these products or this site.